Wilderness Survival – October 2019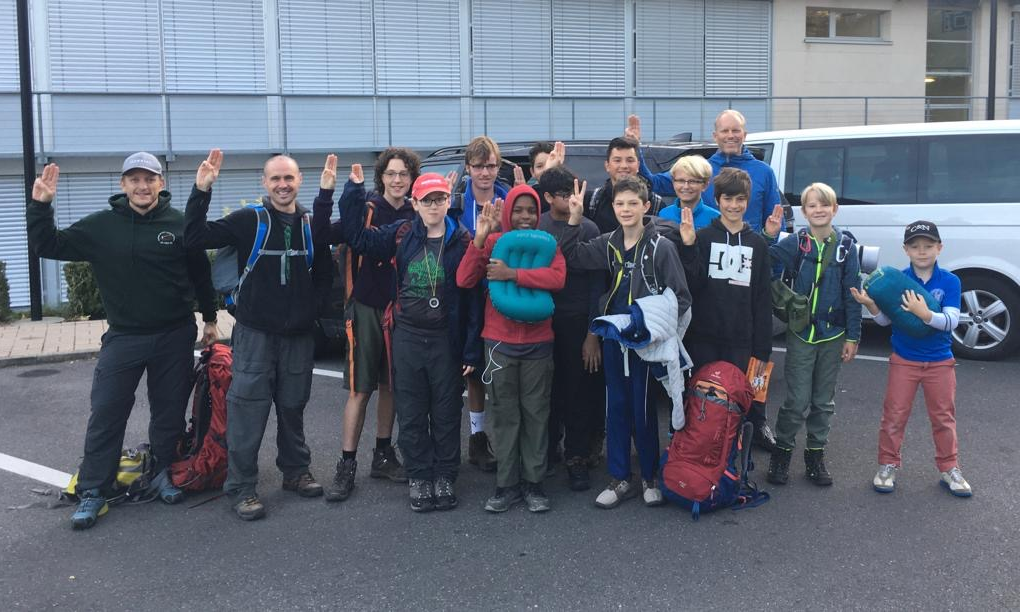 From Saturday 12th to Sunday 13th of October 2019, 12 scouts and 5 adult leaders from Troop 77 took part in the Wilderness Survival Weekend, where the objective was to learn basic survival skills such as shelter construction, fire-making and orienteering and compass skills.
The area we were staying at was at Christer's property (in the Jura mountains) and we set up our base in woods close to a stream.
When everyone arrived, we met Luca, who with Julien, were our intructors for the weekend. Under our instructors' supervision, we got to work digging a hole for our fire pit building our fire pit and lining it using stones from the site.
We then set off for a short hike up a nearby mountain, and once at the top we had our packed lunches. During the hike, Luca and Julien showed us plants and berries we could eat if we needed to. These included rosehip (you can make a tea from this) and wild juniper. Scoutmaster Chris who is recovering from a cycling accident joined us at the top with Alex!
When we returned to the campsite, we got to work building our shelters. It was difficult, because it was a challenge finding the correct wood, moss and leaves, and rain-proofing them, and making them warm inside, but in the end we managed. We used large branches and small trees to make the structures, which we then covered with leafy branches. We filled the gaps with dry leaves and moss.
Luca showed us how to make a fire using the bow and stick method and it was amazing to see it for real! Supper was warm, tomato soup, pasta, sausages and 'Creole-style-x10' chicken (as a result of our very hot firepit!) After dinner, we sang songs around our campfire, told jokes and listened to Chad's terrifying Purple Gorilla tale before returning to our shelters for much-needed sleep.
On Sunday morning, we had a cereal, cheese and pastry breakfast. (thanks Christer!) We packed our things and, those who needed it for First Class, went orienteering with Chad and Mark. The other group stayed at the firepit and practised fire making. ASPL Anthony eventually succeeded!
We were really grateful to have such excellent guides with us, and they taught us some valuable and fun skills!
Sébastien BURGESS
Troop 77 Historian