Camp Alpine 2019 – Week 1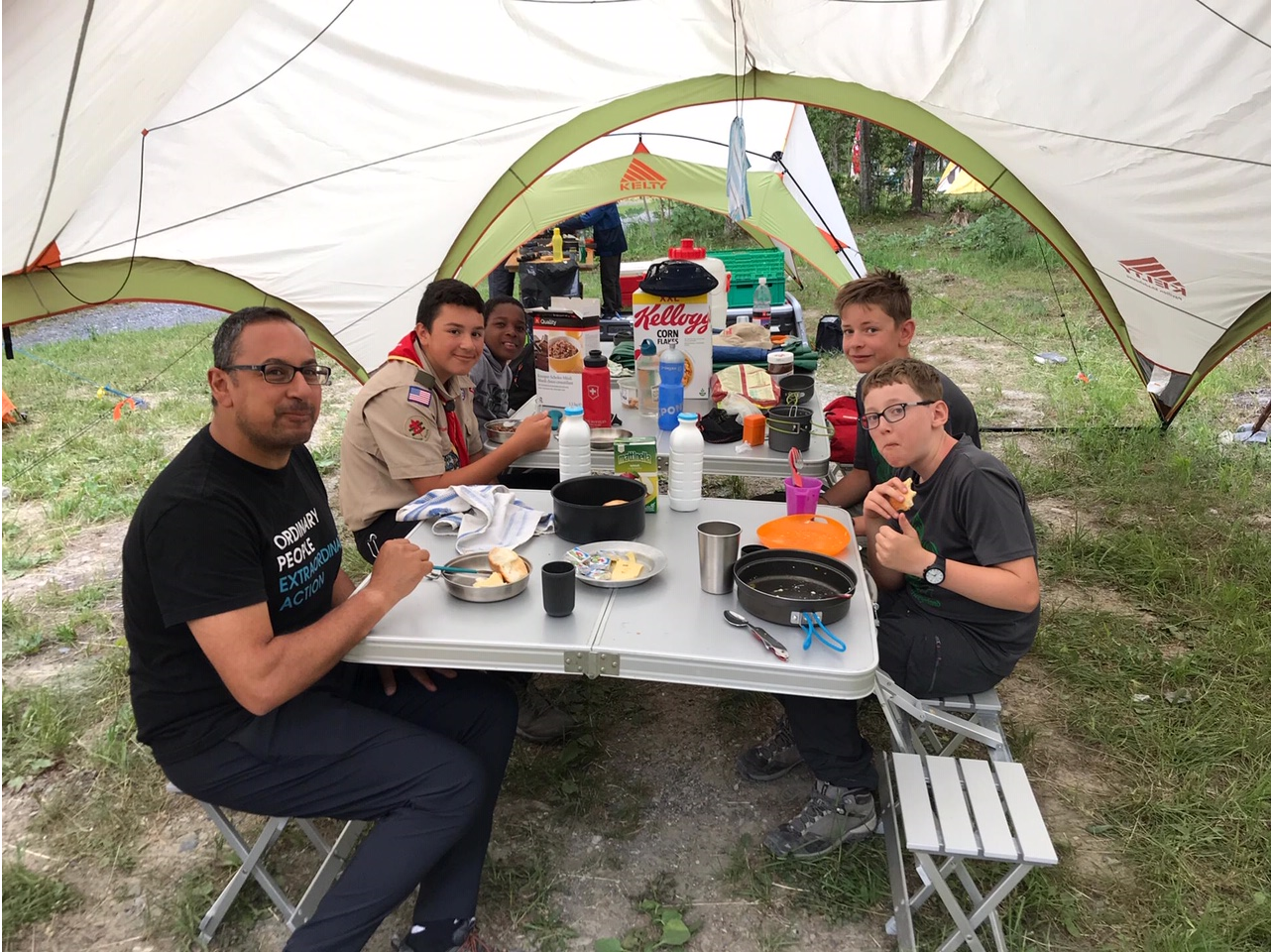 At the beginning of the 2019 summer holidays, Scouts from Troop 77 participated at Camp Alpine, in Kandersteg, Switzerland. The Camp Alpine programme runs over two weeks, and Scouts can choose to do Week One, Week Two or both.
Week One started on Sunday 30th June and ended on Saturday 6th July, and Week Two started on Sunday 7th July and ended on Saturday 13th July 2019.
I attended Week One, and these are my experiences:
On Sunday 30th June 2019, 3 Scouts (Anthony, Gasuza and I) and 2 adult leaders (Andrew and Mark) took the train together to Kandersteg, in the heart of the Swiss mountains. On arrival, we met up with Finley and Kian, set up camp and collected our food provisions from the Commissary. The first evening kicked off with a lively all-Troop campfire, hosted by the (crazy) Camp Alpine staff. Unfortunately Sebastian Bonomo was ill and only managed to join us later in the week.
On Monday morning, we had a flag ceremony, then headed off to our respective Merit Badge courses, including Archery, Handicraft, Ecology, Aquatics, Shooting, First Aid and Outdoor Skills. In the afternoon, after lessons, we all took part in an additional Photography course. In the evening, there was a 'Messengers of Peace' barbecue, and a large Scottish troop shared some specialities from Glasgow with us. We also had a great time dancing with them!
Throughout the week, we didn't always have the healthiest of food (very sugary!), but we made some delicious evening meals, sharing cooking and KP duties. Lunch tended to be LOTS of tuna sandwiches and Vache Qui Rit cheese, not to mention crisps!
On Friday morning, all of the Troop 77 scouts did an Outdoor Ethics Course, and learned the seven principles of Leave No Trace: 'Plan ahead', 'Walk on durable surfaces', 'Trash your trash and everybody else's trash', 'Take pictures leave footprints', 'Be careful with fire,' 'Be kind to animals' and 'Be chilled'. In the afternoon, all of Troop 77 (plus the adult leaders, Andrew, Link and Mark) went on a beautiful 8.5km hike to the Oeschinensee Alpine lake, and we even had a dip in it!
In the evening we enjoyed pizza at a local restaurant, but we came back to the campsite late, so we missed the KISC (Kandersteg International Scout Centre) staff campfire. However we were thrilled because we had earned our KISC 'Swiss Explorer' and 'High Adventure' Awards!
Sebastian Burgess
Troop Historian