Hike to La Dôle – 31.05.2020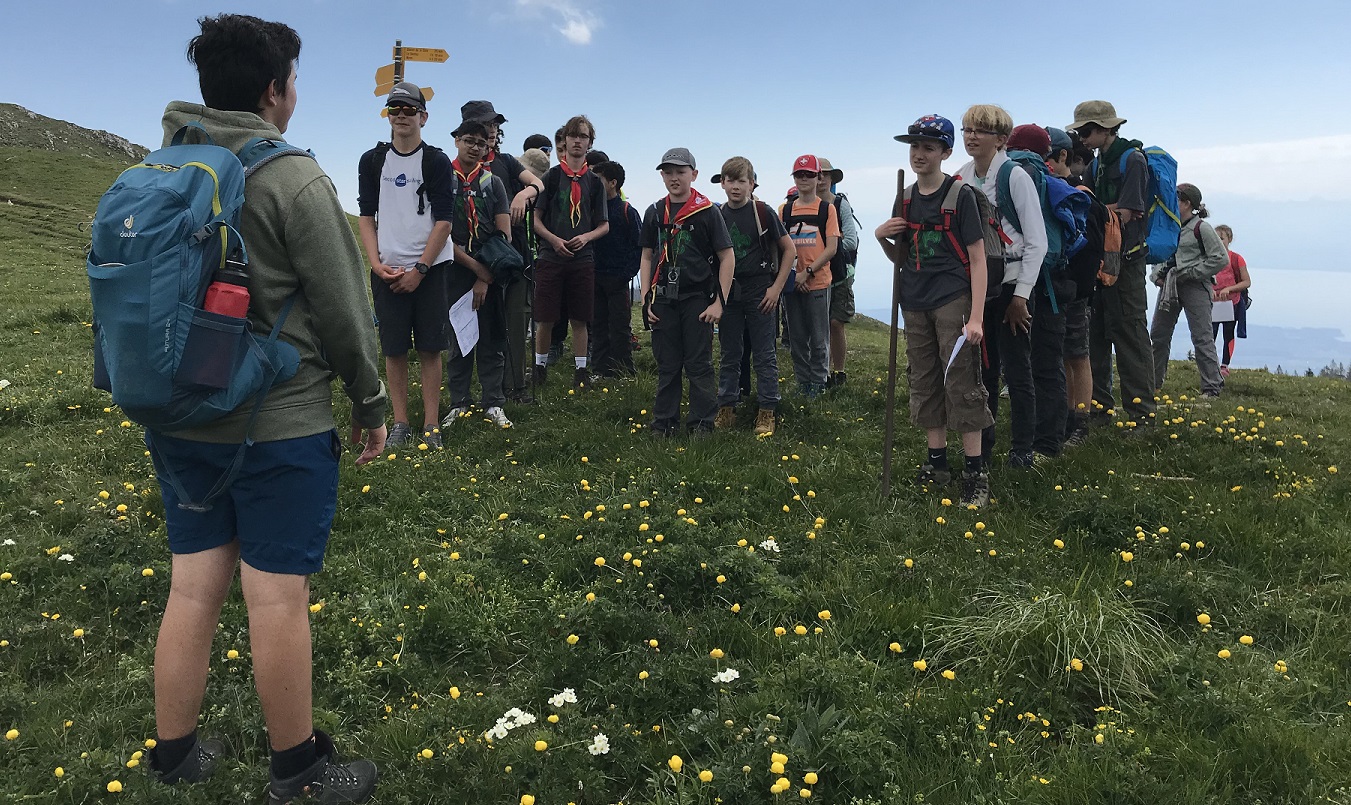 On the 31st May 2020, Troop 77, Geneva Scouts and families together with siblings from Cub Scouts Pack 130 came together for our first post-lockdown hike!
This hike was different from our usual ones, because as we had two separate Patrols, one leaving from France and another from Switzerland with the objective of meeting together at the top! We also had many new young Scouts planning on joining our Troop who we were meeting for the first time. Of course we needed to hike according to Swiss and French social-distancing rules.
At the start of the hike (at the Swiss and French departure points), we split into our Patrol Files: the Vikings, the Pandas and the Crazy Apes. The new Scouts were temporarily divided into the different Patrols, so they could learn the Patrol Method and the Buddy System. For the first time, we also had a patrol of girls! After the Scout Oath and Law, we set off on the hike.
The plan was to hike up to a summit called La Dôle in the Jura mountains, which overlooks Lake Léman, meet up with the French Patrols and prepare lunch over a campfire. We also planned to practice various skills with the younger scouts using the EDGE method.
It was a beautiful day, and we had a great time hiking! After a steep beginning, we arrived at the top, where our Swiss and French Patrols came together and recited the Scout Oath and Law. We then headed to a snowy patch, (to have fun in the last snow of winter!) before moving to our cooking spot. Once we arrived, we prepared the fire (with some scouts using the opportunity to do their Firem'n Chit), and then while those working on the Cooking Merit Badge prepared lunch for the Scouts, other Scouts broke up into First Aid, Orienteering and Knot-tying groups to practice skills. After a delicious hot-dog and marshmallow lunch, we hiked back down.
We really enjoyed the hike, as we haven't hiked together since October 2019. The participation from the new scouts was great, and I think we will all remember this hike as a special one!
Now we are looking forward to our next hike and campout, in early July!
S. Burgess, Troop Historian