BSA Camporee – Normandy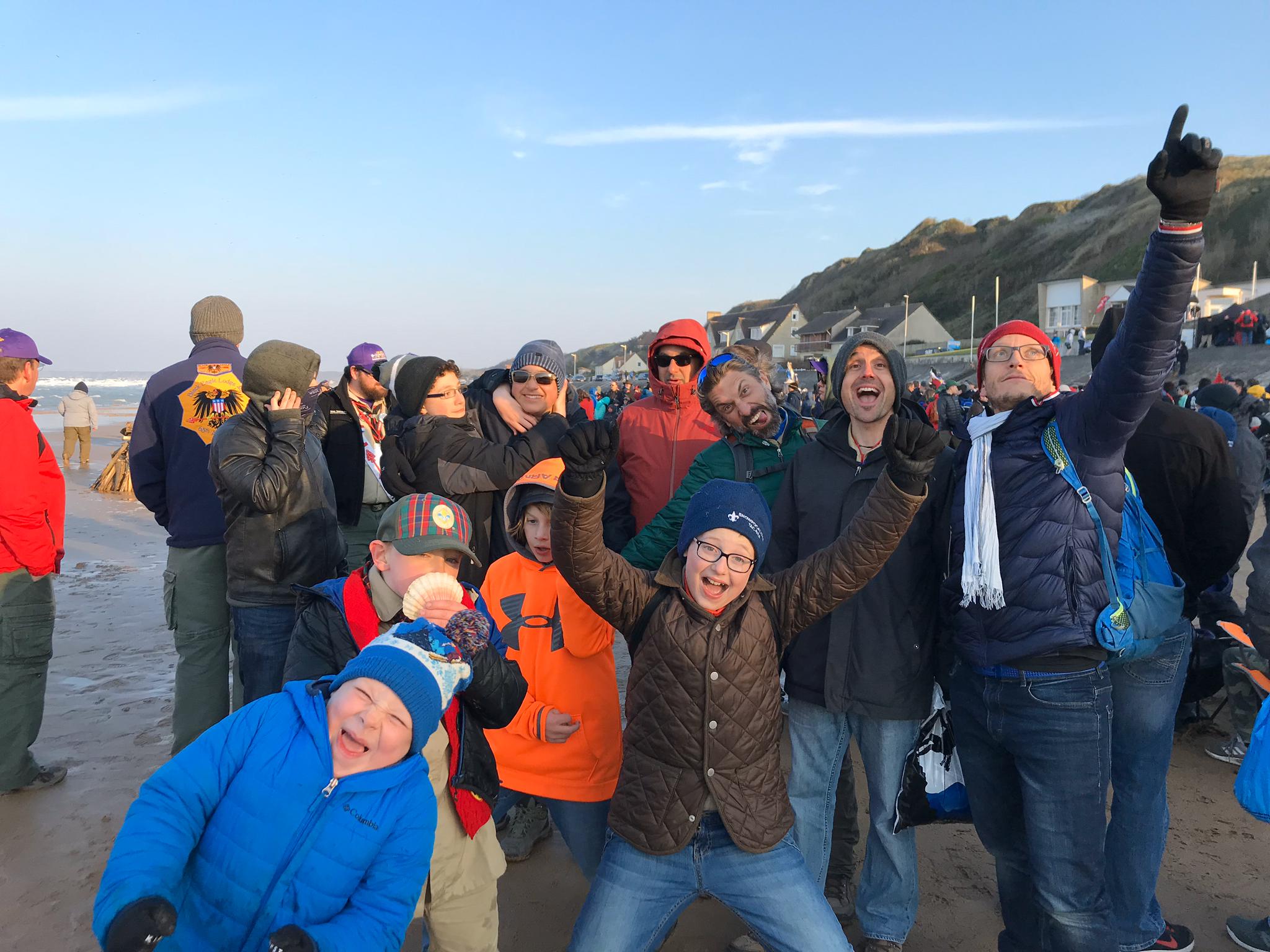 On Friday 12th April 2019, members of Troop 77 and their families drove in convoy to Normandy, France to a BSA Camporee, commemorating the 75th anniversary of the D-Day landings. Five scouting families travelled from Geneva to our campsite, just above Omaha Beach.
On Saturday 13th, following an amazing sunrise, we had a guided tour of Juno beach, which is where the Canadian soldiers landed, on D-Day (June 6th 1944). We went in two of the German bunkers, one of which had only been discovered in 2010, and had been buried beneath the sand all these years. We also went onto the beach itself, which was very big and we could start to appreciate the huge task that faced these brave soldiers on that day. Then, we drove to see Gold beach, where we saw the remains of the Mulberry Harbour pontoons. After that, we visited the German long batteries. One of the cannons had been completely destroyed!
After lunch, we went to Point du Hoc, which is where a squad of American soldiers (Rangers) climbed a steep cliff, surprised the enemy forces and dismantled several long-range guns that would have been dangerous to Allied soldiers landing on Omaha Beach, as well as the Allied ships anchored offshore. On the clifftop, we saw massive holes made by shells fired by Allied ships from near the coast. Some of them were really deep! We got to go into abandoned bunkers too. It really amazed us that almost 75 years ago, the beautiful countryside filled with flowers was once a war zone.
In the evening, we enjoyed a delicious paella dinner on Omaha Beach itself, following which we watched the Eagle Scout ceremony and recognition for newly-elected Order of the Arrow candidates, also held on the beach. Once the tide had gone out far enough, the campfire was lit.
On Sunday morning, we went to the American Cemetery, just above Omaha beach, which has graves for every American soldier who died on the D-Day landings. Once there, we had a short ceremony, symbolising these soldiers' great achievement and sacrifice. I laid a wreath on behalf of Troop 77 and after the ceremony, we were all invited to place a tulip on the grave of a solider. There were in total 9 388 graves.
The experience was deeply moving, and we were amazed by how much we had learned on this outing.
Sébastien Burgess
Troop Historian – Troop 77, Geneva